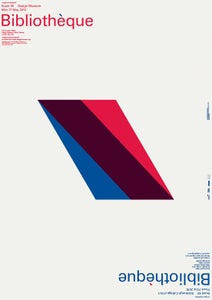 £

30.00
A two colour poster for Bibliothèque's "Long Lunch" talk at The Design Museum.
The poster is dual-purpose insofar as it is promoting two events at two venues. This informed the design solution as we used each colour to correspond with each event location (red for the English venue and blue for the Scottish venue). The finished poster could then be displayed in two orientations depending on which lecture it was promoting.
Format: A1, 594 x 840mm
Print: two spot colours, overprinting to make a third colour
More here – Long Lunch
OVERSEAS ORDERS:
As delivery costs vary depending on the size and destination please contact us for a quote at shop@bibliothequeeditions.com
Please enquire if you are interested in purchasing any of the items on the Bibliothèque website. File copies are limited but we might be able to help.